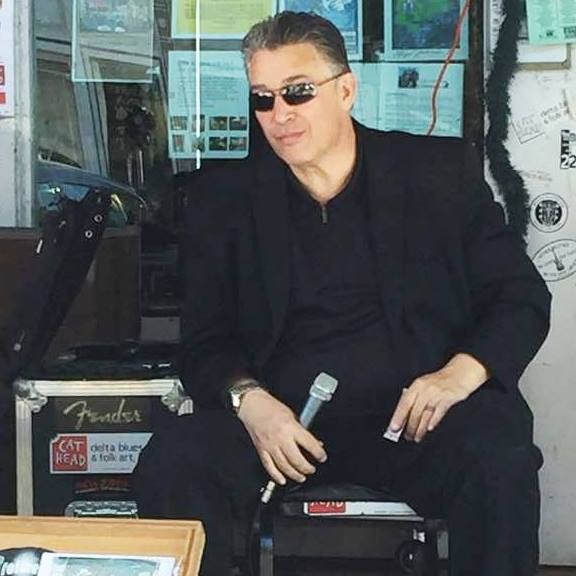 JEFF STONE
WC Handy Award Winner Jeff Stone can wail blues harp with the best of them. Stone won that accolade for his efforts in bringing high-energy blues to the masses during his tenure with Zac Harmon and the Mid-South Blues Revue.
Along with Harmon and and the Mid-South Blues Revue, Stone won the IBC (International Blues Challenge) in Memphis in 2004. During that landmark year, the group also scored big with XM Radio's "Best New Artist Debut" for the award-winning "The World According to Zachariah."
A native of Chicago's South Side, Stone first picked up a harmonica at the age of 12. He kept at it during forays in the Navy and a stay in LA. It was there that his exceptional talent, unmistakable drive and ear for up-and coming blues musicians was first spotted and nurtured by the feisty proprietor of Los Angeles' Babe and Ricky's Inn—"Mama" Laura Mae Gross. She had Stone initiate her famed Open Mic night as host and also introduced him to Zac Harmon.
Harmon is just one of the blues luminaries that Stone has collaborated with. He met fellow South Sider Charlie Love in the early 90's and continues to play with him to this day. It was through Love that Stone was had the chance to collaborate with the many great musicians and female singers that put Chicago on the map as the "Blues Capitol of the World."
Stone noted that, "Charlie is the one who gave me my musical identity." Stone's other Love-based learning experiences included developing a keen understanding of stage presence and "playing his position." "Zac Harmon gave me the opportunity to share our music all around the world."
Although Stone is proud to call Chicago his home, he has resided everywhere from Los Angeles to the Dallas-Fort Worth area. This locale gave him the opportunity to partner with Reverend KM Williams and company. Williams is the proud purveyor of his patented brand of "sanctified boogie" and Stone's harp proved to be the perfect musical partnership to William's unique sound.
Serving as the "Deacon" to Reverend Williams, this dynamic duo have teamed up to produce CDs including "The Truth" and have another live CD in the works. They have also appeared everywhere from the Chicago Blues Festival to the Juke Joint Festival in Clarksdale, Mississippi.
Stone's deep faith was instrumental in his decision to produce and record "3 Faces of the Blues," under his own BlueStone Records label. For this labor of love, Stone brought together many of his musical partners including Love, Williams and songstress Sherry Jackson Pruitt. This project was recognized as 2011's 'Blues Album of the Year' from American Blues News Magazine.
Now, back in the Chicago area, Stone has come full circle. Currently working with...Charlie Love and the Silky Smooth Band, and the Grand-Daughter of the Blues, Tomiko Dixon, and  Gospel-infused work with Mississippi Gabe Carter.